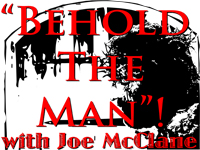 Subscribe: iTunes | Android | RSS
This week on "Behold The Man"… After watching the film "The Genius Club" I wanted to ponder the meaning of life and the power of redemptive suffering! What is the meaning of life? Love and what is it to love? To lay down one's life for a freind just as God did… for God is Love!
* The SHOW NOTES, click HERE, to download a PDF copy.
* Watch the VIDEO version of this episode HERE.
* The intro song was "Rise Up" by Chris Padgett; check out his website HERE.
Your Homework:
* Check Out: John Paul II Film Festival – HERE
*Check Out: The Genius Club – HERE
*Read :  The Martyrdom of Ignatius  – HERE
*Read : Martyrdom of St. Polycarp – HERE
*Read: The Epistle of Ignatius to the Romans – HERE
Your Help:
* CHECK OUT THE VERY COOL MEA CULPA IPHONE APP FOR THE SACRAMENT OF CONFESSION HERE
Really could use your help with reviews on iTunes! Subscribe, rate and review today!Click here to go to the show on iTunes .