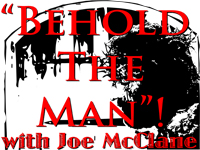 Today, on "Behold The Man" We dive into chapter 6 of Scott Hahn's "A Father Who Keeps His Promises" which introduces us to Rebecka, the wife of Isaac.  It seemed rather interesting to me that Scott move rather quickly through the narrative on how Isaac met Rebecka so I thought we would spend a show talking about it (Genesis 24).  There are some very cool typological themes here that I want to bring out.
The intro song was "All My Love" by Michael Rodgers. Check out his  website HERE.
Haydock;s Catholic Bible Commentary, 1859 edition.
The Targums – Oral tradition & interpretation of the Hebrew Scrolls into Aramaic.
Really could use your help with reviews on iTunes! Subscribe, rate and review today!Click here to go to the show on iTunes .
Pick up your copy of the Book HERE and the audio book HERE and prepare yourself for the journey through Salvation History!
Subscribe: Google Podcasts | RSS | Check out the podcast resource page!