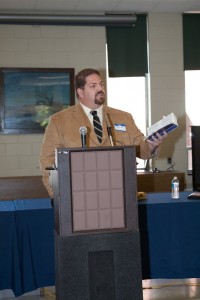 Joe McClane is the director and events coordinator for Fullness of Truth Catholic Evangelization Ministries, as well as a Catholic New Media producer & Evangelist at CatholicHack.com, where his motto is "to be the donkey Jesus rides today!"  Joe grew up in the Church of Christ but fell away and became agnostic in his teens, following in the footsteps of his father, leading a worldly life of selfishness and hedonism. After serving in the US Marine Corps, Joe moved to Oklahoma City, OK, where he attended the American Broadcasting school. Upon graduation, in 1997, he sold his car to purchase a one-way train ticket to Boston, MA, in order to peruse a career in radio. While broadcasting live from a pizza-pub in Nashua, NH, Joe met the love of his life, and would spend the next two years winning her heart. She agreed to marry him on one condition, he would need to convert so that their kids would be raised Catholic.
 He joined the Catholic Church at the Easter Vigil of 1999 and was married, to his lovely wife Michelle, in September of 2000. The honeymoon wouldn't last long however, his self-centered worldview and pornography addiction managed to steadily destroy their marriage. Joe attributes the full flowering of the graces he received in the sacraments to a spring day in 2002, when, after loosing his job, and on the brink of divorce, he got on his knees and "let go and let God". Joe describes it as an encounter with the living God, however, one whom he knew so little about, having squandered his time in RCIA, and rarely ever attending Mass. Joe's journey went into hyper drive at that point, spending every opportunity to study scripture, reading, and listening to his favorite pastor's sermons on protestant radio, in hopes of coming to know this "person" who came to meet him at his lowest point.
 Seeing the protestant influence, and knowing of their eminent departure from the Church, a dear friend decided to reach out, in faith, in an effort to keep them in the One, Holy, Catholic, and Apostolic Church, by challenging Joe to listen to a set of tapes, from Dr. Scott Hahn, called, "Calling all Catholics to be Bible Christians and vice versa!" It proved to be a pivotal moment in his life, having heard, for the first time, a reasonable defense for the ancient Catholic Church. He would spend the next decade, and beyond, diving deep into his Catholic faith, studying from the heart of the Church, and he's been in love with Jesus Christ, and the Catholic faith ever since.
 In 2007, Joe felt called to utilize his training in radio, and his passion for the faith, for the glory of God, and the building up of the Kingdom, by producing a podcast. Choosing the name "The Catholic Hack!", he wished to express humility rather than confidence, allowing his passion to shine as an encouragement to other Catholics, that they may begin to share their faith with others. By God's grace, The Catholic Hack podcast enjoyed a world-wide audience with thousands of downloads every week. In 2009, Joe was asked, by "View The Truth Exodus Ministries", in Brooklyn, NY, to revamp the podcast for radio distribution throughout Latin America, in order to reach a new audience. The "Behold The Man" radio show was born, enjoying a great two and a half year run. In addition to guest interviews on various EWTN affiliated stations, Joe also co-hosted "Finding Your Keys", with Josh LeBlanc, on Radio Maria in 2010.
 Having written several articles on the faith, and now a chapter in a soon to be released book published by Catholic Answers, Joe is blessed to travel and speak on Catholic apologetics, typology, scripture, theology, abortion from a man's perspective, pornography, evangelization, Christian fatherhood, manhood and so much more. Joe and his wife are devout practicing Catholics who are excited to share the treasure of Jesus Christ, who came to them when they needed him most, the Catholic Church, with the whole world.  Joe and Michelle live in Spring, TX with their five kids, having entrusted their to the mercy of God.