Podcast: Play in new window | Download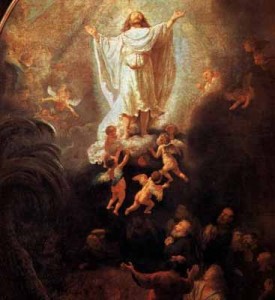 It was a great honor for me to give this talk at ONE ministry – " An Evening of Praise and Worship" in Houston, Texas. With the gift of the presence of Christ comes the task to be his martyrs, His witnesses, to HIS brethren to the ends of the earth. Let us stop looking up and storing up, and begin living up to our mission to live for Christ today, learning our faith, living our faith, and sharing our faith.
Want more? Check out my talking points HERE.
Some great resources on the Ascension:
The Catechism of the Catholic Church – ARTICLE 6: "HE ASCENDED INTO HEAVEN AND IS SEATED AT THE RIGHT HAND OF THE FATHER" –  CLICK HERE
Pope Benedict XVI – Jesus of Nazareth: Holy Week: From the Entrance Into Jerusalem To The Resurrection – Epilogue – He Ascended into Heaven, page 278 & following – CLICK HERE
St. Leo The Great – Sermon 73 – On the Lord's Ascension, I – CLICK HERE
St. Leo The Great – Sermon 74 – On the Lord's Ascension, II – CLICK HERE