Podcast: Play in new window | Download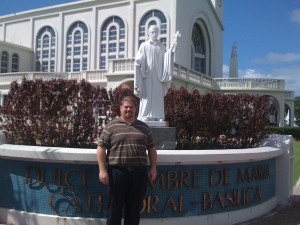 Hafa Adai!  God is so good to me… so much better than I deserve! I was recently blessed to be invited to speak at the 9th annual Catholic Men's conference in Guam. The men were truly inspiring to me, and the people were extremely gracious and generous.  I can not say it enough… God is good, I know that because I have met these people who witnessed to me God's abiding love!  Thank you to Father Mike, Pat Wolfe, and the rest of the staff, who took such great care of me while I was on Island.
I gave 3 talks, plus a short address to the "Chain-4-Life" pro-life rally with the Archbishop.  What an honor!
Keynote:
"Who do you say that I am?" [ti_audio media="2547″] 
DOWNLOAD MP3
When taunted by the devil in the Garden of Gethsemane, "why die for them?" Our Lord proclaimed, "shall I not drink the cup which my Father has given me?" Dyeing on the cross, our Lord witnessed to those present, and all those who would come after, for you … "Father for give them, for they know not what they do!"  If He would endure so much for you, to witness for you before all,,, are you prepared to witness for him to the world?  Together we will look at our "personal" relationship with the King of the Universe and how we can "… Always be prepared to make a defense to any one who calls you to account for the hope that is in you" (1 Peter 3:15).
1st Breakout:
"Our Vocation to Holiness" [ti_audio media="2548″] 
DOWNLOAD MP3
In a world racked full of excuses, millions relativize the faith, building "loop holes" for themselves, falling drastically short of their calling.  Our Lord commands us to"… be perfect, as your heavenly Father is perfect" (Mt. 5:48)!  Is this even possible? Together we will discover our vocation to holiness as Men in a modern world.
2nd Breakout:
"The Law Of Love: Becoming the Man in the Garden!" [ti_audio media="2549″] 
DOWNLOAD MP3
Together we will go back to the beginning, back to the dawn of time, to enter the Garden, to walk with the Lord in the "cool of the day" as Preist, Prophet and King.  Together we will stand with the NEW Adam, against the ancient serpent, and, discover for ourselves what it means to become the Leader, Protector and Provider… the MAN in the Garden… its the Law of Love played out through salvation history!
Here is the video from the "Chain-4-Life" rally:
It was exciting to see so many young people come and witness to the world for Christ, for His Church, and for LIFE, from conception to a natural death! What a blessing it was for me personally… the video is not the best, I was holding the camera while speaking, but, the Archbishop was holding in his hands a 1st class relic of Blessed John Paul the Great! A drop of his blood! That was VERY cool! God is so good to me… so much better than I deserve!