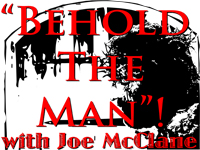 Today on "Behold the Man" , we interrupt our regularly scheduled program to look at the typology found in St. Luke's annunciation narrative in chapter 1.  Like the Tabernacle in the wilderness, and the Temple of Salomon, Mary too was overshadowed by the Spirit, and filled with God's presence. But… there's another prototype that most miss… Gen. 1:2 and the Spirit that hovered over the waters of creation.  It's the bonus round.
The intro song was "Love" by Curtis Stephan. Check out his  website HERE.
Check out in the Johannine Tradition (Part 2) by Dr. John Bergsma for an OUTSTANDING review of the Cosmic Temple in Jewish Tradition.
Really could use your help with reviews on iTunes! Subscribe, rate and review today!Click here to go to the show on iTunes .
Subscribe: Google Podcasts | RSS