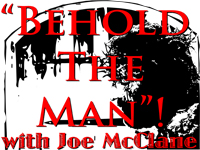 Today, on "Behold the Man" we look at how Jacob earns his name by wrestling with an Angel, escapes death at the hand of Esau and the fall of the 3 eldest son's of Jacob!
NOTE: my microphone was over modulated… too HOT… which means the audio quality was less than the best. I apologize for this and will make sure the next show sounds better.
Show Notes:
* The SHOW NOTES, click HERE, to download a PDF copy.
* Watch the VIDEO version of this episode HERE.
* The intro song: "One" from Kelly Pease; check out her website HERE.
Your Homework:
*Read the Targumes – HERE
* Pick up your copy of the Book HERE and the audio book HERE and prepare yourself for the journey through Salvation History!
Your Help:
* CHECK OUT THE VERY COOL MEA CULPA IPHONE APP FOR THE SACRAMENT OF CONFESSION HERE
Really could use your help with reviews on iTunes! Subscribe, rate and review today!Click here to go to the show on iTunes
Subscribe: Google Podcasts | RSS | Check out the podcast resource page!