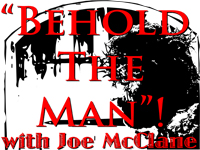 Today, on "Behold the Man" I give an overview of a talk I will be giving on the subject of Shame from John Paul The Great's book "Love & Responsibility".  For decades in my pursuit for satisfaction, through pornography addiction, and sexual license, I found only shame.  Shame is what reminds us of our sin, and at the same time, can help us find true freedom.
Join me, in person, or on-line, LIVE March 5th at Hester's Cafe in Corpus Christi TX when I give this presentation.  For more information click HERE.
Really could use your help with reviews on iTunes! Subscribe, rate and review today! Click here to go to the show on iTunes .
Subscribe: Google Podcasts | RSS | Check out the podcast resource page!