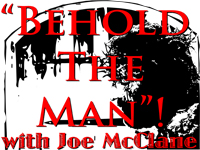 Today, on "Behold The Man" we continue our discussion on John Paul II's "Love & responsibility: Shame & Continence".  Shame is properly absorbed by Love.. what does that mean, how does it work? Well that's what we talk about it.
The single Jesus is God from the album Superhero by Scarecrow & Tinmen, check out their site HERE.
Join me, in person, or on-line, LIVE March 5th at Hester's Cafe in Corpus Christi TX when I give this presentation.  For more information click HERE.
Really could use your help with reviews on iTunes! Subscribe, rate and review today! Click here to go to the show on iTunes .
The LIVE Video feed:

Subscribe: Google Podcasts | RSS | Check out the podcast resource page!