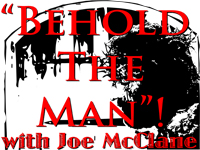 Today on "Behold The Man", we talk about the Gospel reading from the 4th week of Lent… Luke 15:11-32, the "Prodigal Son".  This is on of the most beautiful passages of Scripture as it depicts the endless mercy of the Father for His children.  Aren't we all in need of rescuing… of mercy… of forgiveness?  Our Lord knows this, and in the "Prodigal Son" parable he communicates this to us in abundance.
The Intro Song "Rescue Me" by Sue Peters, check out his website HERE. Catch me at the San Antonio Catholic Men's Conference on March 20th; more information HERE. Also, check out the St Paul Center For Biblical Theology website HERE.
Really could use your help with reviews on iTunes! Subscribe, rate and review today! Click here to go to the show on iTunes.
Subscribe: Google Podcasts | RSS