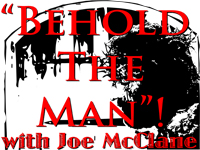 Today on Behold The Man, we dive a little deeper into St. Luke 15:11-32 & St. John 4 as we see how much Our Father has great love for his children. We also see how the "Prodigal Son" & the "Woman at the Well" were also direct encounters with God in bringing back together his family, the Jews & the Israelite's, the chosen people of God.   Its a beautiful scene of the vastness of God's mercy for us all!
The Intro song was "Traces of Jesus" by artist Dan Duet. Check out Dan's site HERE.  Be sure to also check out my talk at the San Antonio Catholic Men's Conference HERE.
Really could use your help with reviews on iTunes! Subscribe, rate and review today! Click here to go to the show on iTunes.
Subscribe: Google Podcasts | RSS