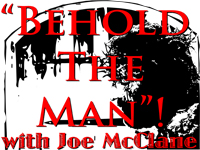 Today, on Behold The Man, I share my talk at the San Antonio Men's conference.  I know many have already listened to this talk however, for the benefit of those who only listen to this show on the radio I was granted permission to post a 45 min special.  Also, a listener just forwarded me an article on the damaging effects of pornography on men and women from a secular point of view HERE. Defiantly worth reading! Want just the talk? Download it HERE. ALSO, CHECK OUT THE "FREE FROM PORN", UNDER THE ABOUT TAB, SECTION FOR MORE RESOURCES.
The Intro song was "We Live to Love" by artist Curtis Stephan. Check out Dan's site HERE.
Really could use your help with reviews on iTunes! Subscribe, rate and review today! Click here to go to the show on iTunes.
Subscribe: Google Podcasts | RSS