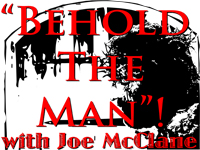 Today on "Behold The Man" we take a look at Revelation 21 & the Bride of the Lamb who is measured at her wedding!  As we pursue this mystery we uncover a very profound truth… we, the Bride of the Lamb, are ONE with him & we make up the most intimate, and personal part of God… his inner sanctuary… the Holy of Hollies!
A MUST listen… "The Church as Temple in the Gospel of St. John" by Dr. John Bergsma – HERE
The Intro song was "Save Me" by artist "Last Day". Check out Roby's site HERE.
Really could use your help with reviews on iTunes! Subscribe, rate and review today!Click here to go to the show on iTunes.
Subscribe: Google Podcasts | RSS