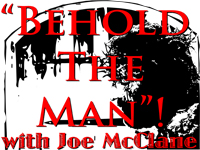 Today, on "Behold the Man" we discuss the Ascension of Jesus… taken up to heaven by a cloud, and sits down at God's right hand. This significance, of the cloud, the right hand, the place, and the who… all make this a great topic of a quick discussion on Scripture.  There is a lot going on in this episode and we do our best to dive deep, dig hard, and cram it all in… in only a half hour show.
Get your tickets to the Fullness of Truth summer conference with Dr. Scott Hahn HERE.
The Intro song was "You are the Light" from Brandon Fitts. Check out Brandon's site HERE.
Really could use your help with reviews on iTunes! Subscribe, rate and review today!Click here to go to the show on iTunes.
Subscribe: Google Podcasts | RSS