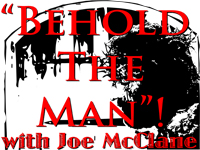 Today, on "Behold The Man" we dive back into our bible study using "A Father Who Keeps His Promises" as our tour guide. We pick up were we left off in episode 26 (HERE) in Chapter 5 with Abraham.  On the last show we looked at the 3 covenants God made with Abraham and the 3 promises… today we look at the entire journey of Abraham.
The intro song was "Prepare Me Lord" by Michael James Mette. Check out their website HERE.
Really could use your help with reviews on iTunes! Subscribe, rate and review today! Click here to go to the show on iTunes .
Get ready and pick up your copy of the BookHERE and the audio book HERE and prepare yourself for the ride!
Subscribe: Google Podcasts | RSS | Check out the podcast resource page!