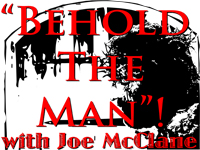 Today, on "Behold The Man" we look at the mysterious figure of Melchiz'edek whom Abraham gave a tithe and whom it is said, in Hebrews 7:17 "For it is witnessed of him, 'Thou art a priest for ever, after the order of Melchiz'edek.' " Who is this man? Where does he come from? What does this mean that Christ is a Priest after HIM?  BTW – I ran out of time and didn't get the chance to talk about how David was a type of Melchiz'edek as well … offering up sacrifice, eating the "show bread" and being King of Isreal… both King David & Melchiz'edek were Old Testament prototypes of Jesus who brings these types to perfection in himself… the true Priest/King who sits at the right hand of the father.
The intro song was "Meet Me Where I  Am" by Noelle Garcia. Check out her  website HERE.
Really could use your help with reviews on iTunes! Subscribe, rate and review today! Click here to go to the show on iTunes .
Get ready and pick up your copy of the Book HERE and the audio book HERE and prepare yourself for the ride!
Subscribe: Google Podcasts | RSS | Check out the podcast resource page!