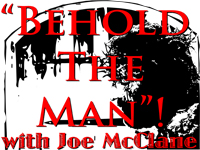 Today, on "Behold The Man" we finish up chapter 5 of "A Father who keeps his promises" by Dr. Scott Hahn, by looking at Genesis 22 and Abraham's ACT of faith.  It's a powerful peak into the future and how God will send HIS only son, Jesus, placing the wood on His back, making Him climb that mountain, and offering Him up there.  Abraham trusted in God to redeem Issac, to resurrect him on the 3rd day… just as Jesus will do on that same spot!
The intro song was "Act of Faith" by Sue Peters. Check out her  website HERE.
Really could use your help with reviews on iTunes! Subscribe, rate and review today!Click here to go to the show on iTunes .
Get ready and pick up your copy of the BookHERE and the audio book HERE and prepare yourself for the ride!
Subscribe: Google Podcasts | RSS | Check out the podcast resource page!