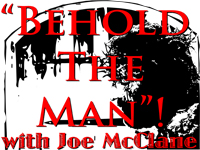 Today on "Behold the Man", we look at Genesis 26, 27, and part of 28 in our study of "A Father Who keeps His promises" by Dr. Scott Hahn.  Rebecca, knowing the Isaac was about to bestow the blessing of the first born to Easu, intercedes, and sends Jacob in to Jacob Easu & Isaac. The plan is hatched,,, carried out,,, and the blessing goes forth! The parallels to the passover, and Easter/Eucharist are amazing.
The intro song was "Love is a Beautiful Thing" by Barry Russo. Check out his  website HERE.
The Fullness of Truth conference, featuring Dr. Scott Hahn, is in 1 weeks. More info HERE.
Pick up your copy of the Book HERE and the audio book HERE and prepare yourself for the journey through Salvation History!
Really could use your help with reviews on iTunes! Subscribe, rate and review today!Click here to go to the show on iTunes .
Subscribe: Google Podcasts | RSS | Check out the podcast resource page!