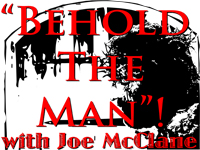 Today on "Behold The Man", we ask the question; did Jesus come to do something completely new? Or, was His plan constant from the beginning?  I argue that his plan for Salvation has been the same from the beginning and he has perfected the old in the new… thereby making all things new.  We will look at the structure, worship, and fulfillment of the old into the new.
The intro song was "Mighty King" by Steve Angrisano. Check out his  website HERE.
Pick up your Fullness of Truth conference talks on CD or MP3 disk  featuring Dr. Scott Hahn  HERE.
Subscribe: Google Podcasts | RSS