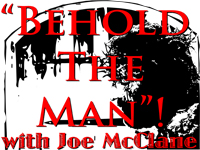 Today, on "Behold the Man" we look at a very tough question; how can I proclaim the Catholic Church when there are so many problems with it?  The answer is simple… the Church itself is a gift from God. We take a quick journey through salvation history to see how Jesus perfects the Church and gives us the Bishops, Priests, Deacons, and sacraments as life and light for a dark world.
The intro song was "Wade in the water" by Ike Ndolo; check out his website HERE.
Read the article from the Houston Chronicle HERE.
CHECK OUT THE VERY COOL MEA CULPA IPHONE APP FOR THE SACRAMENT OF CONFESSION HERE
Really could use your help with reviews on iTunes! Subscribe, rate and review today!Click here to go to the show on iTunes .
Subscribe: Google Podcasts | RSS