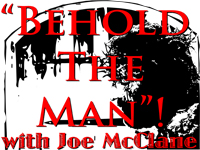 Today, on "Behold the Man" we dive into the scriptural, and traditional, roots of Mary's assumption into heaven by God.  If you would like to read my actual show notes, with the references, click HERE, to download a PDF copy.  Watch the VIDEO version of this episode HERE.
Article on Mary's immaculate conception & assumption into heaven from Catholic Answers HERE
Article: "Mary Crowned in Glory" from the Saint Paul Center for Biblical Theology HERE
The intro song was "Your Grace is Enough" by Bob Rice; check out his website HERE.
CHECK OUT THE VERY COOL MEA CULPA IPHONE APP FOR THE SACRAMENT OF CONFESSION HERE
Really could use your help with reviews on iTunes! Subscribe, rate and review today!Click here to go to the show on iTunes .

The Video Version
Subscribe: Google Podcasts | RSS