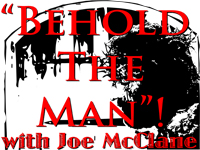 Today, on "Behold the Man" we talk about the 30 day challenge for marriage. We also look at what marriage is, and what it is NOT.  We take a quick trip through salvation history to see how it began and how it ended up… then how, our Lord raised it to a new level.
* The SHOW NOTES, click HERE, to download a PDF copy.
* Watch the VIDEO version of this episode HERE.
* The intro song was "Your Kingdom Is Glorious" by Jackie Francois; check out her website HERE.
* CHECK OUT THE VERY COOL MEA CULPA IPHONE APP FOR THE SACRAMENT OF CONFESSION HERE
Really could use your help with reviews on iTunes! Subscribe, rate and review today!Click here to go to the show on iTunes .
Subscribe: Google Podcasts | RSS