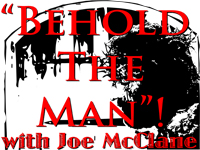 Today, on "Behold The Man" we take a look at how the Old becomes the New, how the feast of Yom Kippur is perfected in the cross of Christ! We also pray for the Jewish people; may their High Holiday be filled with G-d's grace!
* The SHOW NOTES, click HERE, to download a PDF copy.
* Watch the VIDEO version of this episode HERE.
* The intro song was "Rejoice" by Cooper Ray; check out his website HERE.
Article on "Day of Atonement" for the Jewish Encyclopedia – HERE
English version of the Mishnah –  see the section on "Yom" – HERE
Jesus as High Priest : HERE, HERE, HERE, & HERE
* CHECK OUT THE VERY COOL MEA CULPA IPHONE APP FOR THE SACRAMENT OF CONFESSION HERE
Really could use your help with reviews on iTunes! Subscribe, rate and review today!Click here to go to the show on iTunes .
Subscribe: Google Podcasts | RSS