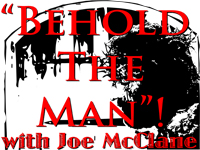 Today, on "Behold the Man" we continue in our study of "A Father who keeps His promies", chapter 6, looking at how Jacob meets Rachel his wife. We see the comparisons to the Woman at the Well in John 4 and the Marriage feast opf the Lamb in Revelation 21 and 22.
* The SHOW NOTES, click HERE, to download a PDF copy.
* Watch the VIDEO version of this episode HERE.
* The intro song was "Your Will Be Done" by Chris Muglia; check out his website HERE.
Your Homework:
"Age of the Patriarchs" from SalvationHistory.com – HERE
"Lesson One – In the Johannine Tradition (Part 1)" by Dr. John Bergsma – The High Priestly Prayer of Jesus & The High Priest in Yom Kippur – HERE
"Commentary on Genesis" – Fr. William Most – HERE
Targum's on Genesis 28 & 29 – HERE
Your Help:
* CHECK OUT THE VERY COOL MEA CULPA IPHONE APP FOR THE SACRAMENT OF CONFESSION HERE
Really could use your help with reviews on iTunes! Subscribe, rate and review today!Click here to go to the show on iTunes .
Subscribe: Google Podcasts | RSS | Check out the podcast resource page!