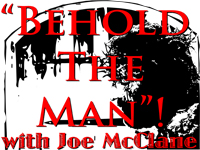 Today, on "Behold the Man" we look at the doctrine of purgatory; where is that in scripture? Where do we find praying for the dead? We dive deep and see how this doctrine is not only scriptural but, very beautiful!
Show Notes:
* The SHOW NOTES, click HERE, to download a PDF copy.
* The intro song: "Invitation" from Jenny Pixler; check out her website HERE.
Your Homework:
*Read the Catholic Answers tract on "Purgatory" – HERE
*Read the Catholic Answers tract on "Roots of Purgatory" – HERE
Your Help:
* CHECK OUT THE VERY COOL MEA CULPA IPHONE APP FOR THE SACRAMENT OF CONFESSION HERE
Really could use your help with reviews on iTunes! Subscribe, rate and review today!Click here to go to the show on iTunes
Subscribe: Google Podcasts | RSS