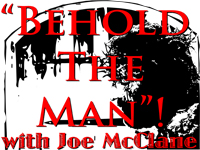 Today, on Behold The Man we prepare the way of our Lord by looking at the first Confession… the fall of man, the reconciliation, and the restoration of us all!
Show Notes:
* The SHOW NOTES, click HERE, to download a PDF copy.
* The intro song: "The King He Comes!" from Ike Ndolo; check out his website HERE.
Your Homework:
*Read : NewAdvent.org article – "Advent"  – HERE
* Christmas shopping : Pick up the CD's/MP3 from the "Winning The Culture War!" conference – HERE
Your Help:
* CHECK OUT THE VERY COOL MEA CULPA IPHONE APP FOR THE SACRAMENT OF CONFESSION HERE
Really could use your help with reviews on iTunes! Subscribe, rate and review today!Click here to go to the show on iTunes
Subscribe: Google Podcasts | RSS