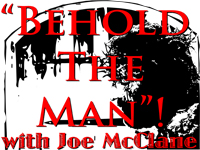 Today, on "Behold The Man" we dive deep on the readings of the 4th Sunday in the season of Advent… looking at the promised "Mother and her Child", the anointed son of David who will sit on the throne forever!  It becomes clear that Jesus is that child but, we also see how Joseph therefore is the NEW David, and Mary is the NEW Queen Mother!
Show Notes:
* The SHOW NOTES, click HERE, to download a PDF copy.
* The intro song: "Love Has Come" from Matt Maher; check out his website HERE.
Your Homework:
*Read : "Was Joseph Really Suspicious of Mary's Pregnancy?" by Dr. Michael Barber – HERE
*Read : "The Blessed Virgin Mary: QUEEN MOTHER OF THE NEW DAVIDIC KINGDOM" by Michal Hunt – HERE
*CHART: THE DAVIDIC KINGS OF JUDAH 930 – 30AD to Eternity – HERE
Your Help:
* Christmas shopping : Pick up the CD's/MP3 from the "Winning The Culture War!" conference – HERE
* CHECK OUT THE VERY COOL MEA CULPA IPHONE APP FOR THE SACRAMENT OF CONFESSION HERE
Really could use your help with reviews on iTunes! Subscribe, rate and review today!Click here to go to the show on iTunes
Subscribe: Google Podcasts | RSS