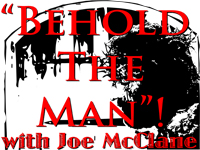 Subscribe: Google Podcasts | RSS
 Today on "Behold The Man": Transitive Property & Salvation outside the Catholic Church! If A=B, & B=C, Then A=C! If (A) Salvation is equal to (B) Jesus Christ, and (B) Jesus Christ being equal to ( C ) the Catholic Church, then (A) Salvation MUST be equal to ( C ) The Catholic Church!
Show Notes:
* The SHOW NOTES, click HERE, to download a PDF copy.
* The intro song: "O Come, All Ye Faithful" by Curtis Stephan; check out his website HERE.
Your Homework:
*Read : Salvation outside the Church – Catholic Answers – HERE
Your Help:
* CHECK OUT THE VERY COOL MEA CULPA IPHONE APP FOR THE SACRAMENT OF CONFESSION HERE
Really could use your help with reviews on iTunes! Subscribe, rate and review today!Click here to go to the show on iTunes