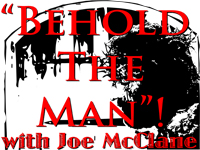 Subscribe: Google Podcasts | RSS
This week on "Behold The Man" we look at how Nicodemus, the People Crusher, comes at night to encounter the NEW Joshua, who HAS to CROSS through the water in order to enter into the promised land! Is Baptism a Sacrament? Yes… its the only way we can enter the Kingdom!
Show Notes:
* The SHOW NOTES, click HERE, to download a PDF copy.
* The intro song: "American Anthem For Life" by Brian Flynn; check out his website HERE.
* The video version of this show – HERE.
Your Homework:
*Listen to: John – The Sacramental Gospel – Dr. Scott Hahn – HERE
*Read : SACRAMENT OF BAPTISM – Scripture Catholic – HERE
*Read : Tracts on Baptism – Catholic Answers – HERE
Your Help:
* CHECK OUT THE VERY COOL MEA CULPA IPHONE APP FOR THE SACRAMENT OF CONFESSION HERE
Really could use your help with reviews on iTunes! Subscribe, rate and review today!Click here to go to the show on iTunes