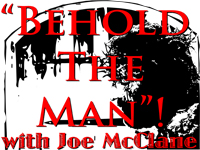 Subscribe: Google Podcasts | RSS
This week on "Behold The Man" we do it "Freestyle" and catch up, look forward, and talk LOVE, porn, marriage, and the cross of Christ again!
* The SHOW NOTES, click HERE, to download a PDF copy.
* Watch the VIDEO version of this episode HERE.
* The intro song was "Sing A New Song" by Danielle Rose; check out her website HERE.
Your Homework:
*Check-Out :  "Thy Kingdom Come: Unlocking The Gospel of St. Matthew" by Fullness Of Truth with Dr. Scott Hahn et. al. – HERE
*Check-Out :  "Out of The Darkness" by Anteroom Pictures  – HERE
*Check-Out : John Paul II Film Festival – HERE
*Listen to : All of my talks – HERE
Your Help:
* CHECK OUT THE VERY COOL MEA CULPA IPHONE APP FOR THE SACRAMENT OF CONFESSION HERE
Really could use your help with reviews on iTunes! Subscribe, rate and review today!Click here to go to the show on iTunes