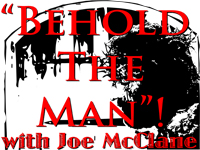 Subscribe: Google Podcasts | RSS
This week on "Behold The Man", we look at weather or not St. Peter was truly ever in Rome. We will show that not only was he in Rome but, that it was a fulfilment of an Old Testament prophecy!
* The SHOW NOTES, click HERE, to download a PDF copy.
* Watch the VIDEO version of this episode HERE.
* The intro song was "Life Our Hands" by Mark Mallett; check out his website HERE.
Your Homework:
*Check-Out : "Coming Soon: Unlocking the Book of Revelation" By Dr. Michael Barber (type it in the search field) – HERE
*Check-Out : "Who is the Whore of Babylon" By Dr. Brant Pitre  – HERE
*Check-Out : "Peter's Roman Residency" Catholic Answers – HERE
*Check-Out : "Was Peter in Rome?" Catholic Answers – HERE
*Check-Out : Virtual Tour of St. Peter's Tomb! – HERE
*Check-Out : "Tomb of St. Peter" by NewAdvent.org – HERE
*Listen to : All of my talks – HERE
Your Help:
* CHECK OUT THE VERY COOL MEA CULPA IPHONE APP FOR THE SACRAMENT OF CONFESSION HERE
Really could use your help with reviews on iTunes! Subscribe, rate and review today!Click here to go to the show on iTunes – HERE