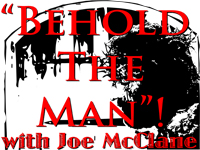 Subscribe: Google Podcasts | RSS
This week on "Behold The Man", we look back through the mountain and mediators of Salvation history to see what they all had in common. Then we look at how it is all perfected in the NEW mountain, the ROCK of St. Peter.
* The SHOW NOTES, click HERE, to download a PDF copy.
* Watch the VIDEO version of this episode HERE.
* The INTRO SONG was "B 16 Bomber" by Fr. Stan Fortuna; check out his website HERE.
Your Homework:
*Check-Out : "Jesus and the Jewish Roots of the Eucharist" By Dr. Brant Pitre (type it in the search field) – HERE
*Check-Out : "Mountains and Mediators" By Dr. John Bergsma  – HERE
*Check-Out : "Inept Attempt to Dismiss the Petrine Primacy in the See of Rome" By Steve Ray – HERE
*Check-Out : "Lenten Prayer" Catholic.org  – HERE
*Listen to : "BTM No. 36 Feed My Sheep" – HERE
*Listen to : "BTM No. 15 St. Peter" – HERE
*Listen to : "TCH No. 8 "The Authority of Christ's Church" – HERE
Your Help:
* CHECK OUT THE VERY COOL MEA CULPA IPHONE APP FOR THE SACRAMENT OF CONFESSION HERE
Really could use your help with reviews on iTunes! Subscribe, rate and review today!Click here to go to the show on iTunes – HERE