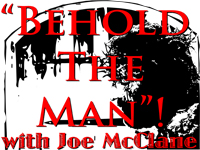 Subscribe: Google Podcasts | RSS
This week on "Behold The Man", We wrap up our series on Baptismal typolgy by looking at Joshua's crossing of the Jordan river. How must we enter into the Kingdom of Heaven? By crossing the water infused with the Holy Spirit!
* The SHOW NOTES, click HERE, to download a PDF copy.
* Watch the VIDEO version of this episode HERE.
* The INTRO SONG was "Jumpstart" by Alexis Saski from the 2010 Rockin Romans album; check out her website HERE.
Your Homework:
*Check-Out : "The Crucified Rabbai" by Taylor Marshal – HERE
*Check-Out : "Behold The Man No 66 Baptism and The People Crusher!" By Joe McClane  – HERE
*Check-Out : "Baptism by dunking only?" By Joe McClane – HERE
*Check-Out : "The Catholic Hack! Episode No. 4 Infant Baptism" By Joe McClane  – HERE
*Check-Out : Tracts on Baptism By Catholic Answers  – HERE
*Check-Out : "The Sacraments And the History of Salvation" By Jean Cardinal Danielou, S.J.  Found in "Letter & Spirit" – Volume 2, 2006 Pages 203 – 215 (type it in the search field) – HERE
Your Help:
*Listen to : "Saint Ignatius of Antioch" Download MP3 narrations of all 7 Epistles FREE – HERE
* CHECK OUT THE VERY COOL MEA CULPA IPHONE APP FOR THE SACRAMENT OF CONFESSION HERE
Really could use your help with reviews on iTunes! Subscribe, rate and review today!Click here to go to the show on iTunes – HERE