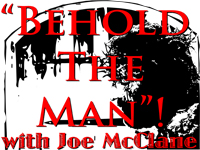 Subscribe: Google Podcasts | RSS
This week on "Behold The Man" we look at how Jesus' entry into Jerusalem on a Donkey kicks off a NEW 8 day festival that perfects the feast of Tabernacles, Hanukkah and so much more! A new King of peace brings a new Priesthood, and a new Feast!
* The SHOW NOTES, click HERE, to download a PDF copy.
* Watch the VIDEO version of this episode HERE.
* The INTRO SONG was "In The Name of the Father" by The Thirsting from the 2008 Champions of the Lamb album; check out her website HERE.
Your Homework:
*Check-Out : "Behold The Man No 78 The Triumphal Entry! Part 1″ –  By Joe McClane  – HERE
*Check-Out : "The Crucified Rabbai" by Taylor Marshal – HERE
*Check-Out : "The Catholic Hack! Episode No 48 – Palm Sunday" By Joe McClane  – HERE
*Check-Out : "Thy Kingdom Come: The Gospel of St. Matthew" By Dr. Scott Hahn – HERE
*Check-Out : "Mountains and Mediators (Volume 2): A Survey of the New Testament" By Dr. John Bergsma – HERE
Your Help:
*Listen to : "Saint Ignatius of Antioch" Download MP3 narrations of all 7 Epistles FREE – HERE
* CHECK OUT THE VERY COOL MEA CULPA IPHONE APP FOR THE SACRAMENT OF CONFESSION HERE
Really could use your help with reviews on iTunes! Subscribe, rate and review today!Click here to go to the show on iTunes – HERE