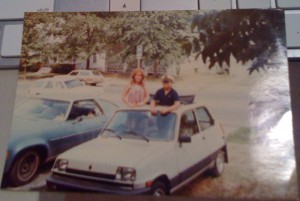 At the age of 7, I was dreaming big… playing army most every day, pretending to be John Wayne or Sgt. York. It was 1981 and Radiers of the Lost Ark was out in the theaters, although Star Wars was by far my favorite… I always played the role of Hahn Solo, and had every line memorized! My Father drove a Le Car when he was stationed in Kansas,,, we thought it was the coolest car on the road! I dreamed of glory and fame on the battle field… to be heroic in the face of overwhelming adversity. Life was set… I knew how it would all turn out.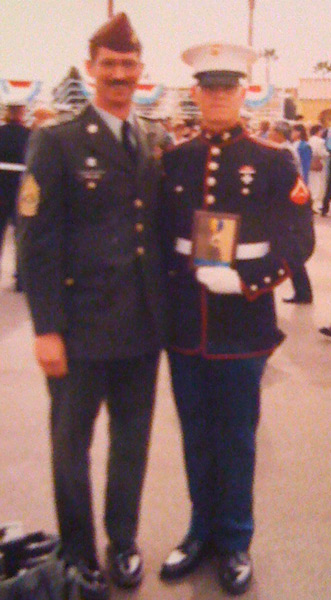 In 1991 I was 17, the first gulf war broke out in Iraq and I convinced my Mother to sign me over to the Marines.  I had grand dreams of  leading men in a long successful carrer in the service of my Country… like my Father had.  That year I watched every movie about the Marines I could find… I practically memorized Heart Break Ridge with Clint Eastwood, and Full Metal Jacket with the famous drill instructor R. Lee Emory.  When given the opportunity, I even used the same cadence call while running the platoon in formation at boot camp… it earned me major "brownie" points with my Senior DI. My parents were proud when they saw my name in lights at MCRD San Diego as I was the Company Honor Man at graduation.  I was full of idealistic dreams of serving with honor and glory under fire… I was the best of the best… I had earned the title, US Marine.  It was a proud day.  It didn't take long,,, I guess I was as nieve as they come, I squandered my dreams of glory and service to my country on pursuits of selfishness and sin.  You can listen to the rest of the story HERE.  When I returned home, from my duty station in Hawaii (don't be jealous) I felt lost and depressed… I had no idea what I was going to do with the rest of my life. I moved around a lot and felt hopeless. On the advice of my sister, in hopes of giving me a second chance, a new direction, I attended a broadcasting school in Oklahoma. Upon graduation, I sold my car for $300 and bought a one-way train ticket from Dallas to Boston. A new direction called for a new home… I was going to "cast off into the deep" and see what was in store for me in New England and my new career of glory in the broadcast radio industry.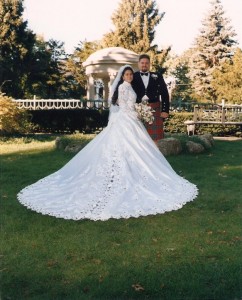 By my 27th birthday in 2001, I had been married just over eight months, and Catholic for just about a year and a half. Although my not-so-glorious radio carrer was very short lived I could not have imagined how God would have used my "15 minutes of fame" to lead me to the most beautiful women I have ever seen. We met in the summer of 97; broadcasting live from a pizza joint in Nashua, NH for WHOB 106.3. I knew the moment I laid eyes on her that I wanted to marry her. That night, I got on my knees and begged God to make it happen.  It was common for me to only talk to God when I needed something… that was about the only time God heard from me, I was too consumed with my own selfish desires to spend any time with Him. In 1998 I  had finally  saved up enough money to buy her a ring that I knew she would love… a beautiful princess cut diamond, set like a baseball diamond, and flanked by vivd blue sapphires. I knew I wanted to do something big for the engagement… I wanted to make it special! I recruited her brother to assist me in my scheme. I told Michelle that we had a dinner party to attend with my co-workers so she needed to get dressed up nice however, when I arrived to pick her up, I told her we were doing something special… she must wear a blindfold on the drive over.  It was tough work to convince her to do it but… I did! I drove her all around town just so she wouldn't figure out where we were going.  I finally parked the truck, helped her out and then led her up a steep hill on the edge of town. It was a famous hang-out spot for teenagers called Rock Rimmon.  The perfect spot as it over looked downtown Manchester, NH.  The timing could not have been better… just as the sun was setting over the city, and the sky was a beautiful mix of red and purple shades, I removed her blindfold.  She had no idea what to expect… her brother and I had dragged up that hill a wooden dinning room table and all the fixings of a lobster feast (her favorite).  The look on her face was priceless when she saw the flickering red candle lights, on a sterling silver candelabra, set above the bright red lobsters placed on dinner plates on top the a flaming red table cloth. It was a sight to behold for sure but… I had more! I pulled the ring box from my pocket, it was covered in white leather and when opened, had a light on the inside cover that shined down on the diamond making its radiance absolutely brilliant. Her jaw dropped just as I dropped to one knee and asked her to marry me… it was a moment that I will never forget.  We sat there, on the rock, at dusk, eating our lobsters, ignoring all the folks who came to hang out, just staring at this scene, and pondered what the future would bring for us.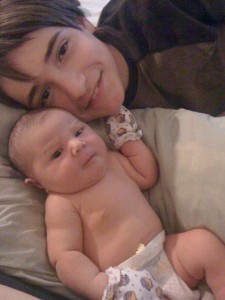 Today, July 7th, 2011, is my 37th birthday… Michelle and I have been married, by the Grace of God, for over ten years now.  We have been near divorce more than once on this journey… but, our faith in God and commitment to each other in our marital vows, have seen us through. In the spring of 2002 I had a mystical conversion experience that changed my life dramatically. For the first time, that year, I slowly began to understand what it meant to love someone more than myself… I had spent everyday prior loving myself alone.  The words of the Gospel "Did not our hearts burn within us" (Luke 24:32) had a whole new meaning for me… I truly felt the Spirit come alive within me. I fought lustful temptation, desired to love my wife,  began to fight for my marriage, and had an insatiable hunger for God… to know God! It was new territory for me to be sure. Even with this new found fire in my heart… God had more in the works for us! When we struggled to have kids, loosing three children to miscarriage, God sent us Steven, whom we adopted when he was 5 years old. Steven is a great kid with a troubled background. Adoption was parenting by fire,,, we surly jumped into the deep end of the parenting pool, with no floaties, with him. Steven is now 13 years old and has far exceeded our expectations in so many areas. He's still a handful for us but, he's our oldest son and a true gift of God. When thoughts began to creep in our mind that we would not be able to have children naturally… God answered our prayers and gave us Mary Elizabeth. Almost from day one her personality shined through. Mary Elizabeth began talking very early, we would get a kick out of the shock of strangers who would comment on her vocabulary at such an early age. Look out world… Mary Elizabeth is coming! God then moved our family to Texas where our second son, John-Paul was born on June 6th of 2007. Unlike our other children, John-Paul is blond and blue-eyed… defiantly stands out in family pictures. He's a great kid and shares so many of my sensitivities… I see a lot of me in him.  After only a year here… an opportunity to work fulltime in Catholic ministry opened up with the Fullness Of Truth Catholic Evangelization Ministries, it was a dream come true.  God's graces have continued to bless us, in 2009 Daniel-Jude was born… a real "daddy's boy" who loves to wrestle, our brute! Now, just under two weeks ago, my second daughter Mary Therese was born. I can tell you for certain that the fire has burned the hottest when I was their for the birth of my children… God is love, we are told in 1 John 4:8. As Blessed John Paul II once said, God in the trinity of persons, is not a solitary being… he is Father, Son, and Holy Spirt, He is family… his love is perfectly poured out to and through each from all eternity. His Love… is then nailed to a cross just for us! To love… is to love someone else completely. That is what I experienced when my children were born. When I hold my kids, God becomes more present to me.
At seven, I dreamed of fame and fortune through a heroic carrer in the military. At Seventeen I heeded the call of our country and enlisted in the US Marine Corps. I had dreams, ambitions… I squandered both and then wondered lost until God sent me a new call.  I couldn't even imagine what he had in store for me… although I wish I had pondered my future wife and children. I wish I had prayed for them and prepared myself to serve them one day. But, I can not but thank God for a failed military career and dashed dreams,,, otherwise I might not have met my Love and held my children. By God's grace, He looked past my iniquity, called me to His Church, forgave me in His confessional, and allowed me to marry the love of my life. As if that was not enough… He has blessed me with such beautiful children… could a man ever deserve this? I know I don't! At thirty seven I wonder what God has in store for us next and pray that he teaches me to lead this family to heaven. My dreams and ambitions have changed over the years, fame and fortune will no longer do… I now desire the courage to seek holiness and saint hood for my self and those whom God has placed in my care and custody. To provide for them and share the faith with all the world. Someday…
About the Author:
Joe McClane – The Catholic Hack! – is the director and events coordinator for Fullness of Truth Catholic Evangelization Ministries, as well as an a Catholic New Media producer & Evangelist. He is married to his lovely wife Michelle and they have five children. The Catholic Hack | Catholic Apologetics, Theology & More!