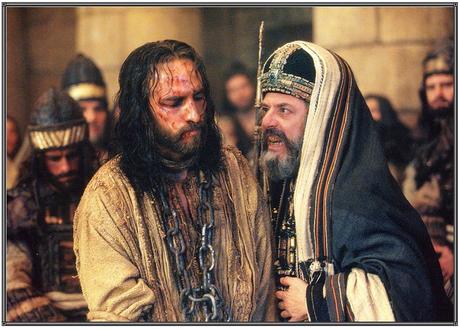 It's time, once again to play… "Name that Old Testament Prototype!"
How to play:
Roy from Corpus Christi sorry bro's you will have t0 sit this one out!
I will give you the New Testament verses, and fulfillment… the reality which the prototype pointed to,  and you will have to give me the Old Testament prototype & verses.
Respond with your answer by leaving a comment on THIS post.
We play until we have a winner; First-come-first-serve.
If you win… I will mail you your prize by us postal mail within a week.
If you don't win; don't worry… God still loves you!  Dive deep & dig hard!
DON'T MISS THE NEXT FULLNESS OF TRUTH CONFERENCE WITH DR. SCOTT HAHN! info HERE
The Prize:
A 8 disc Audio CD set, from Fullness of Truth, featuring Dr. Scott Hahn, Dr. Brant Pitre , Dr. Michael Barber, and Steve Ray on the "The Gospel According to St. Paul". – a $50 value.
* BONUS: My 9 hour Audio CD set on "Freedom From Porn" & fighting pornography addiction. – a $20 value
The Game:
The New Testament Fulfillment: "Coming on the Clouds" in St. Mark's Gospel 14:60 – 64
It was this saying that earned him the death penalty…. "Are you the Christ"? Barked the High Priest at Jesus… "I AM; and you will see the son of man sitting at the right hand of Power and coming with the clouds of heaven" responded our lord!  Proclaiming himself to be God! This is what earns him the death penalty, and it giving us a small insight into a coming event of his Glory. 

[60] And the high priest stood up in the midst, and asked Jesus, "Have you no answer to make? What is it that these men testify against you?"
[61] But he was silent and made no answer. Again the high priest asked him, "Are you the Christ, the Son of the Blessed?"
[62] And Jesus said, "I am; and you will see the Son of man seated at the right hand of Power, and coming with the clouds of heaven."
[63] And the high priest tore his garments, and said, "Why do we still need witnesses?
[64] You have heard his blasphemy. What is your decision?" And they all condemned him as deserving death.
So tell me:
What does this "coming on the clouds" refer to? What event is he speaking of ? What direction would he be "coming" from?
What Old Testament prototype is this a reference to that gives us the answer to the direction? State the OT passage that answers the riddle.
Good Luck! Game On!
UPDATE:
We Have a WINNER!
Congrats Joe… you made it look way too easy; I will have to come up with a harder one next time.  The answer to this question is found in the 7th Chapter of the book of Daniel. Daniel is standing in the heavenly throne room when the Son of Man is brought up from earth on a "cloud" and is seated on his throne for judgment over creation!  Our Lord was telling the High Priest that he maybe be judging him at this moment BUT the day is coming when he will be taken up by a cloud and seated on his throne and will Judge all!  For he is the great "I AM".   I talked about this in my "Behold The Man" Radio show no. 38 "The Ascension" check it out HERE.