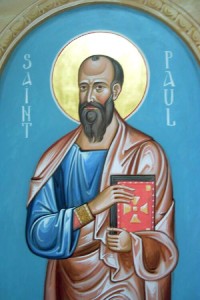 Many well intentioned Christians believe that St. Paul teaches the doctrine of Sola Fide, or "Faith Alone", in the book Romans.  In fact this book served as the spark that ignited the protestant revolution across Europe in the fifteen hundreds. Martin Luther even went so far as to ADD a word to his translation of Romans 3:28 ([28] For we hold that a man is justified by faith [ALONE] apart from works of law.). Even though the word "alone" is no where found in the Greek manuscripts of Romans, Luther felt this was the "sense" in which Paul intended, therefore, Luther felt justified in including it. Interestingly, the only place where the words "faith" and "alone" DO OCCURE together in the Greek are found in James 2:24 ([24] You see that a man is justified by works and not by faith alone.). The epistle of "straw" is what Luther called it… what I personally find fascinating is that both James 2 & Romans 4 are quoting the same passage from Genesis 15:5–7 (RSVCE) 5″ And he brought him outside and said, "Look toward heaven, and number the stars, if you are able to number them." Then he said to him, "So shall your descendants be." 6 And he believed the Lord; and he reckoned it to him as righteousness."
Was it really not until Genesis 15 when Abraham had "saving faith"? Was that ALL he needed in order to be "justified"? Didn't Abram have "faith" in God when he left his home and set out to a land he had never been to, in Genesis 12… first? Didn't Abram have "faith" in God, trusting him to provide for his family, when he reached the "promised" land, found it plagued with a famine, and had to go to Egypt for refuge, also in Genesis 12? Or how about when Lot, his Nephew, asked for the choice land, leaving the the arid desert to Abram… was it his "faith" that he exhibited when he went about the land setting up alters and offering sacrifice to God, thanking Him for the future fulfillment of the promise, in Genesis 13? Ok, what about when Abram set out to rescue the selfish Lot from the War Lords, did he not have "faith" that God would protect him when he charged head long into the fight in Genesis 14? Oh, and offering a tithe to the "Priest Of God most high", was that also his "faith" exhibited in his actions, trusting God for the blessing, in Genesis 14? Boy, for someone who didn't have a "saving faith" until Genesis 15… he sure DID an awful lot in "faith" first!
So, did St. Paul really believe, and teach, that you need ONLY to have "faith" in order to be justified?   Take a look at the following verses, they certainly seem to suggest it.
Romans 8:[38] For I am sure that neither death, nor life, nor angels, nor principalities, nor things present, nor things to come, nor powers,
[39] nor height, nor depth, nor anything else in all creation, will be able to separate us from the love of God in Christ Jesus our Lord.

Romans 10:[9] because, if you confess with your lips that Jesus is Lord and believe in your heart that God raised him from the dead, you will be saved.
[10] For man believes with his heart and so is justified, and he confesses with his lips and so is saved.
It's interesting to me… IF St. Paul really held to the doctrine of Sola Fide, then should he have written Romans 8:38 & 39 more along the lines of, "nor idolatry, nor adultery, nor murder, nor slander, nor drunkenness? etc. etc? What can separate us from the love of God? Surly nothing from His part but, notice St. Paul says nothing about those sins which WE commit!  To be sure… we MUST have faith! We MUST confess it with our lips that Jesus is Lord and believe in our hearts!  Then what do we do? We… do as St. Paul teaches us in Romans, 13:[9] "The commandments, "You shall not commit adultery, You shall not kill, You shall not steal, You shall not covet," and any other commandment, are summed up in this sentence, "You shall love your neighbor as yourself."  [10] Love does no wrong to a neighbor; therefore love is the fulfilling of the law."
Doesn't this bring to mind St. Paul's famous chapter on love?  1 Corinthians 13:[2] "And if I have prophetic powers, and understand all mysteries and all knowledge, and if I have all faith, so as to remove mountains, but have not love, I am nothing." At any rate… I am digressing!  IF I had written the book of Romans and I believed in the doctrine of Sola Fida, then I do not think that I would have ever written the following verses. I would not have wanted to confuse the reader/hearer on what Martin Luther felt was such a clear teaching with these "confusing" statements!
Verses I would NEVER have written IF I believed in Sola Fide: 
Romans 2: [6] For he will render to every man according to his works:
Romans 2:[13] For it is not the hearers of the law who are righteous before God, but the doers of the law who will be justified.
Romans 6:[15]What then? Are we to sin because we are not under law but under grace? By no means! [16] Do you not know that if you yield yourselves to any one as obedient slaves, you are slaves of the one whom you obey, either of sin, which leads to death, or of obedience, which leads to righteousness?
Romans 8:[15] For you did not receive the spirit of slavery to fall back into fear, but you have received the spirit of sonship. When we cry, "Abba! Father!"
[16] it is the Spirit himself bearing witness with our spirit that we are children of God,
[17] and if children, then heirs, heirs of God and fellow heirs with Christ, provided we suffer with him in order that we may also be glorified with him.
[18] I consider that the sufferings of this present time are not worth comparing with the glory that is to be revealed to us.
Romans 11:[18] do not boast over the branches. If you do boast, remember it is not you that support the root, but the root that supports you. [19] You will say, "Branches were broken off so that I might be grafted in." [20] That is true. They were broken off because of their unbelief, but you stand fast only through faith. So do not become proud, but stand in awe. [21] For if God did not spare the natural branches, neither will he spare you. [22] Note then the kindness and the severity of God: severity toward those who have fallen, but God's kindness to you, provided you continue in his kindness; otherwise you too will be cut off.
Romans 14:[10]Why do you pass judgment on your brother? Or you, why do you despise your brother? For we shall all stand before the judgment seat of God;
Romans 15:[18] For I will not venture to speak of anything except what Christ has wrought through me to win obedience from the Gentiles, by word and deed,
About the Author:
Joe McClane – The Catholic Hack! – is the director and events coordinator for Fullness of Truth Catholic Evangelization Ministries, as well as an a Catholic New Media producer & Evangelist. He is married to his lovely wife Michelle and they have five children. The Catholic Hack | Catholic Apologetics, Theology & More!