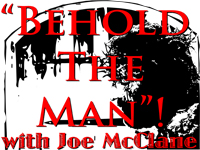 Today, on "Behold the Man" we look at how to vote Catholic… using the 5 non-negotiable issues. As Catholic's we must have a well formed conscience, and then use that conscience for the good of society, especially in elections.
Show Notes:
* The SHOW NOTES, click HERE, to download a PDF copy.
* The intro song: "666 Degrees" from Ceili Rain; check out their website HERE.
Your Homework:
*Read 'The Catholic Church in the Obama Era' from Dr. Charles Rice – HERE
*Pick up your copy of "Voters Guide for Serious Catholics" – HERE
Your Help:
* CHECK OUT THE VERY COOL MEA CULPA IPHONE APP FOR THE SACRAMENT OF CONFESSION HERE
Really could use your help with reviews on iTunes! Subscribe, rate and review today!Click here to go to the show on iTunes
Subscribe: Google Podcasts | RSS