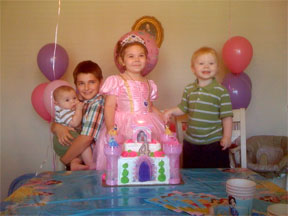 It's been a crazy busy summer and I'm sure you can relate to that. My son John-Paul, turned 2 in June, my Daughter Mary Elizabeth turned 4 in August, and my infant son Daniel-Jude (5 months), whom we thought had a heart issue, was given a clean bill of health. This month my wife and I will celebrate our 9th year of marriage and we are enjoying a renewing in our relationship with each other.
My biggest conference, for Fullness of Truth, of the year was a week and half ago in San Antonio TX and it was great! Some 1500 people came to the conference, over the two days, and Scott Hahn, and the rest could not have done a better job. One of my highlights was to spend personal time with Scott Hahn, Michael Barber, Brant Pitre, and John Bergsma, before, during, and after the conference.  The topic was the Gospel of John and they really did crack open the deep, and profound, Gospel to reveal how marvelous the plan of salvation God had in store. The talks are available on CD's, and MP3's, for purchase so don't miss out; click here for more information!
Coming off the conference weekend I was able to take a couple of days off and hang out, with the family, at the Hyatt Regency Hill Country Resort and it was great! We hung out with good friends by the pool and enjoyed the lazy river. It was relaxing. Unfortunately, I also caught some kind of bug and have spent the last week with a fever, and coughing up a lung. This is part of the reason I have not produced a new Catholic Hack! Podcast this week…. My voice, and concentration is shot. I pray to be over it very soon!
I have partnered with St. Anthony Messenger Press to conduct an in depth study on Dr. Scott Hahn's "A Father Who Keeps His Promises" on The Catholic Hack! Podcast. As you know I love this book and find it immensely valuable. I will have Josh LeBlanc as a guest commentator and we are going to go through the entire book and use it as a bible study tool to dive deep into salvation history. All of my favorite topics are covered in this book and I feel this will help many to see sacred Scripture in a new light. I have been promising a study for so long so I'm very excited to be able to offer this to my loyal listeners who have stuck with me despite the slow down in the frequency of the show.
Even though I have been going through this book on my new radio show "Behold The Man" I still plan to do this study on TCH. We are going to play 10-minute segments of the audio book on each episode. "The Catholic Hack!" is a 1-hour format, as opposed to the half hour "Behold The Man" show, which allows me greater freedom to dive deep into the material. I hope you have enjoyed both shows! BTW – "Behold The Man" needs your help with subscriptions, reviews, and ratings on iTunes… please do so today!
I have also been given the opportunity, through an audition process, to begin narrating the "Dark Night Of The Soul" by St. John of The Cross, which will be released as an audio book later this fall. Please pray that I can capture the essence of this material and deliver it in a powerful and captivating way. This could open up more doors for future projects that would be very good for my family. Your prayers are greatly appreciated.
Well as you may, or may not, know I have been facing a tough situation lately. For the past two, and a half, years my family and I have enjoyed an outstanding, one of the best, health insurance policies… literally… available in the world. Our coverage was about 99% covered with no out of pocket (roughly). Well…. as of September 1st that insurance has expired forcing us to face the harsh reality of where to go from here.
Because I am the only full time employee in a non-profit Catholic Ministry our insurance options are somewhat limited given the resources that are available to us. After looking at several options we are simply not able to afford a decent, let alone the outstanding, insurance and have been very anxious over these results. I have been forced to begin looking at alternative employment in hopes of providing for my family.
Well anybody who is looking for a job right now knows… things are tight out there right now. I really enjoy working full time in Catholic Ministry and really do NOT want to ever work in a secular world again. I only want to shout from the rood tops that Jesus has come to set us Free! However, the cross is not easy to bear and I must face the reality, and responsibility, that my first vocation is  as husband, and father, and I must provide from my families needs. So the deal is my family is exposed right now with no health insurance coverage. What to do….
In hopes of finding a compromise in staying with the ministry, and providing for my family, we are joining a Christian co-op group that helps to provide for major medical needs. Its called Samaritan Ministries International and their website describes them as "a community of Christians from around the world joining together to bear one another's health care burdens in a loving, cost-effective manner that doesn't involve health insurance. Come join the Samaritan fellowship!"
You can check them out at http://www.samaritanministries.org.
This program came highly recommended to us from two great, Catholic, friends of ours whom I trust. The concept is very interesting especially given the fact that our country is in hot debate over national health care right now. I am not in favor of socialized medicine, especially given this administrations track record, but I am in favor of health care for folks with limited resources. The biggest issue is we can NOT allow tax payer funded abortions, or "youth-in-Asia"/suicide panels for the sick, crippled, or elderly. Human life is prime! And we must protect it from conception to a natural death. This was a major point made by Pope Benedict XVI in his latest encyclical "Charity in Truth".
The bottom line is I have NO confidence that, no matter who is in office, a government run health care is a good idea. During hurricane IKE the Govt. (under Bush) couldn't give me ice and water with out major issues… waited in line for 2 hours at the closest station which was  30 min. from my house only to receive  2 x 5lbs bags of ice, and 1 case of 12 oz bottles of water. This was hardly enough to care for my family when no grocery stores were open and folks were fighting (even shooting) each other over the few gas pumps that were open. Every example of the Govt. getting involved in health care is not a good one. I grew up on Army health care… lots of examples of "yeiks" to choose from! I don't know too many folks who rave about the VA system and the Indians, who have a Govt. run health care insurance program, are screaming to the top of their lungs about how bad it is.
I just do not think this will be good for anybody let alone the poor who need it the most. There must be a better way to care for those most in need. For me… even if this Christian co-op does NOT work… I will find another job, work two jobs, if necessary to provide for my families needs. I do not want govt. health care for my family.
Any way… pray for my family as we seek God's plan for us. No matter what I wish to do his will and be where he wants us. I'm praying, that this last option, will allow me to stay with Fullness of Truth but, I'm not certain it will. Praying for discernment!
Thanks for your support and prayers and know I pray for you as well.
God Bless You
Joe McClane
Subscribe: Google Podcasts | RSS | Check out the podcast resource page!