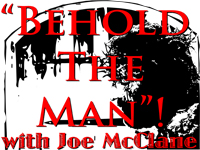 Today on "Behold The Man" we get back to our study on "A Father Who Keeps His Promises" in order to finish up Chapter 4.  It's the next big covenant in Scripture… the flood, the ark, the new creation, and the second fall of man kind! It's a jam packed show so roll up your sleeves and dive in!
Check out this great article, by Dr. Hahn & Dr. Bergsma "Noah's Nakedness and the Curse on Canaan (Genesis 9:20-27).
The intro song was "Universal" by Jacob & Matthew. Check out their website HERE.
Really could use your help with reviews on iTunes! Subscribe, rate and review today! Click here to go to the show on iTunes .
The Video Feed: