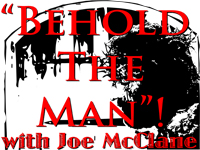 Today on "Behold The Man", we take up where we left off in chapter 6 of "A Father who keeps His promises" by Dr. Scott Hahn.  Jacob, the younger will supplant Esau, the elder, which is contrary to the structure of ancient families, and yet, a major theme through out Salvation History.
The intro song was "Lord I Lift Your Name On High" by Michael James Mette. Check out his  website HERE.
The Fullness of Truth conference, featuring Dr. Scott Hahn, is in 2 weeks. More info HERE.
Really could use your help with reviews on iTunes! Subscribe, rate and review today!Click here to go to the show on iTunes .
Subscribe: Google Podcasts | RSS | Check out the podcast resource page!