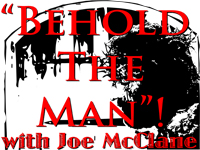 Today, on "Behold the Man" we look at Genesis 28 & the mysterious encounter Jacob had with a ladder reaching up to heaven.  It's fulfillment is found in Christ, the Temple and the Priesthood.   Jacob receives the blessing of Abraham from God himself and yet still try's to keep his options open.
The intro song was "Your Grace is Enough" by Matt Maher. Check out his  website HERE.
Pick up your copy of the Book HERE and the audio book HERE and prepare yourself for the journey through Salvation History!
Really could use your help with reviews on iTunes! Subscribe, rate and review today!Click here to go to the show on iTunes .
Subscribe: Google Podcasts | RSS | Check out the podcast resource page!