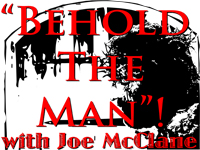 Today on "Behold  The Man", "My God, My God, why hast thou forsaken me"… words of our Lord from the cross that has always bothered me. Was he in utter despair? Or was he at his strongest? It was Todah… Eucharist!
Show Notes:
* The SHOW NOTES, click HERE, to download a PDF copy.
* The intro song: "Somthings Gotta Go!" from Timothy R. Smith; check out her website HERE.
*Special thanks to Dr. Michael Barber for his great talk on the Todah from the "Word of God" Conference in New Orleans 2010.
Your Homework:
*Read : "From Jewish Passover to Christian Eucharist: The Story of the Todah" by TIM GRAY – HERE
*Read: "The Thank Offering" from the St. Paul Center for Biblical Theology – HERE
*Read : "The feast of faith: approaches to a theology of the liturgy" (Pages 54 -57) By Pope Benedict XVI – HERE
*Read: "Kingdom – The Covenant with the House of David" from "Letter & Spirit" by Dr. Scott Hahn  (scroll up 1 page)- HERE
*Read: "The Todah Sacrifice" by Marty Barrack" (half way down) – HERE
*Read: "The Todah Sacrifice as Pattern for the Eucharist" by Stephen Pimentel – HERE
*Read: "The Todah and the Eucharist – Dr. Tim Gray"  by Tom Reagan – HERE
*Read: "What is in a name?" by Pugio Fidel – HERE.
Your Help:
* CHECK OUT THE VERY COOL MEA CULPA IPHONE APP FOR THE SACRAMENT OF CONFESSION HERE
Really could use your help with reviews on iTunes! Subscribe, rate and review today!Click here to go to the show on iTunes
Subscribe: Google Podcasts | RSS