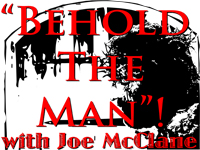 Today, on "Behold The Man" we dive deep on Daniel 2 and 7 to see how our Lord is the fulfillment of the "Son of Man" and how his Nativity brough about the "Kingdom of God". This is what Mary KNEW when she was overshadowed by the Holy Spirit.
Show Notes:
* The SHOW NOTES, click HERE, to download a PDF copy.
* The intro song: "Emmanuel" from Steve Angrisano; check out his website HERE.
Your Homework:
*Read : "Jesus as the Suffering Son of Man" by Dr. Michael Barber – HERE
*Read : "Was the Prophet Daniel a Member of the Davidic Royal Family?" by Dr. Brant Pitre – HERE
*Read: "Son of Man" by NewAdvent.org – HERE
*Read: The Works of Flavius Josephus – HERE
*Read: "Commentary on Daniel" by the late Fr. William Most – HERE
*Listen to: "The Church and the Mystery of Pentecost" by Dr. Brant Pitre – HERE
Your Help:
* Christmas shopping : Pick up the CD's/MP3 from the "Winning The Culture War!" conference – HERE
* CHECK OUT THE VERY COOL MEA CULPA IPHONE APP FOR THE SACRAMENT OF CONFESSION HERE
Really could use your help with reviews on iTunes! Subscribe, rate and review today!Click here to go to the show on iTunes
Subscribe: Google Podcasts | RSS