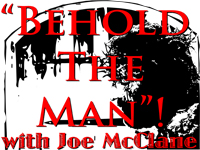 Subscribe: Google Podcasts | RSS | Check out the podcast resource page!
 Why did God have to take on flesh and dwell among us? Why did he have to suffer and die to redeem us? Answer, LOVE. Today, on "Behold the Man" we look at the Law of Love in Salvation History!
* The SHOW NOTES, click HERE, to download a PDF copy.
* Watch the VIDEO version of this episode HERE.
* The intro song was "For Love Of You" by Audrey Assad; check out her website HERE.
Your Homework:
*Read :  "SALVIFICI DOLORIS" by John Paul II  – HERE
*Read : "A Father Who Keep's His Promises" by Dr. Scott Hahn – HERE
*Listen to : "Prime Rib" by Dr. Scott Hahn – HERE
Your Help:
* CHECK OUT THE VERY COOL MEA CULPA IPHONE APP FOR THE SACRAMENT OF CONFESSION HERE
Really could use your help with reviews on iTunes! Subscribe, rate and review today!Click here to go to the show on iTunes