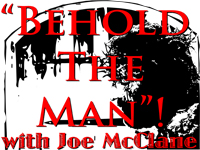 Subscribe: Google Podcasts | RSS
This week on "Behold The Man", we proclaim a fast! The question is, who are we fasting for? And why? The answer… to become like HIM whom we desire!
* The SHOW NOTES, click HERE, to download a PDF copy.
* Watch the VIDEO version of this episode HERE.
* The INTRO SONG was "Fight Song" by The Jacob's Well Experience; check out his website HERE.
Your Homework:
*Check-Out : "The Epistle of Ignatius to the Romans" Written aprox. 110 AD  – HERE
*Listen to : "Saint Ignatius of Antioch" Download MP3 narrations of all 7 Epistles FREE – HERE
*Check-Out : "Fasting" By John Salza  – HERE
*Check-Out : "Jesus and the Jewish Roots of the Eucharist" By Dr. Brant Pitre (type it in the search field) – HERE
Your Help:
* CHECK OUT THE VERY COOL MEA CULPA IPHONE APP FOR THE SACRAMENT OF CONFESSION HERE
Really could use your help with reviews on iTunes! Subscribe, rate and review today!Click here to go to the show on iTunes – HERE