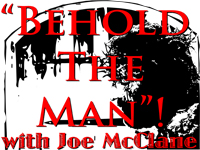 Subscribe: Google Podcasts | RSS
Today, on Behold The Man… Why was David a Man after God's own heart? And does that mean God condones ALL David did, like his many wives? No! We dive deep and find out why in this episode.
* The SHOW NOTES, click HERE, to download a PDF copy.
* Watch the VIDEO version of this episode HERE.
* The INTRO SONG was "My Own Little World" by Dave Moore ; check out his music video – HERE.
Your Homework:
*Check-Out : "The Passion of King David″ –  by  Joe McClane  – HERE
*Listen to : "Saint Ignatius of Antioch" Download MP3 narrations of all 7 Epistles FREE – HERE
Really could use your help with reviews on iTunes! Subscribe, rate and review today!Click here to go to the show on iTunes – HERE